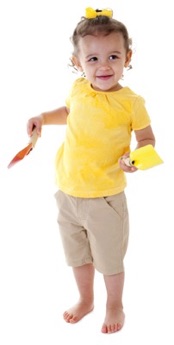 Playing Time is Learning Time!
Our Early Toddler Program focuses on your child's curiosity and fascination with exploring the world around them. We use hands-on exploration and social interaction in safe, engaging surroundings to help your child learn about his or her expanding world. Our teachers guide and nurture your child through play and activities that help with developing all of their skills and senses.
• Listening and Moving to Music
• Playing Ball
• Hide and Seek
• Toys and Games
• Storytelling Time
• Exploration of size, shape and texture of everyday objects
• Picture Books
• Outdoor Playtime
Through the guidance of our early childhood development professionals, toddlers enjoy learning experiences that promote their blossoming independence and social skills, and foster self-confidence.